OMGosh!!! Junior is just absolutely adorable.
They are so precious at that age.
He is old enough to begin learning to eat on his own, but will need a little instruction
since he doesn't have his parents to show him how.
He is probably ignoring the bird stick because he doesn't know how to use it.
My suggestion would be to get a bag of dove mix or small seeds and place a
few in front of him. Then mimic picking them up with your thumb and index finger.
He will become curious (they
are
curious little ones) and will start to
mimic what you are doing. And before you know it Junior is eating on his own.
I would also have a small bowl of water for him to drink from. You may
need to introduce him to the water as well. Just gently put his beak into the water,
making sure his nostrils don't go under. He will soon get the hang of it.
You can try feeding him his Kaytee using a human baby bottle nipple, filling the large end.
I have raised a few that way and they loved it ( I used to place a few seeds on the
Kaytee). It's just another way of getting them started on seeds.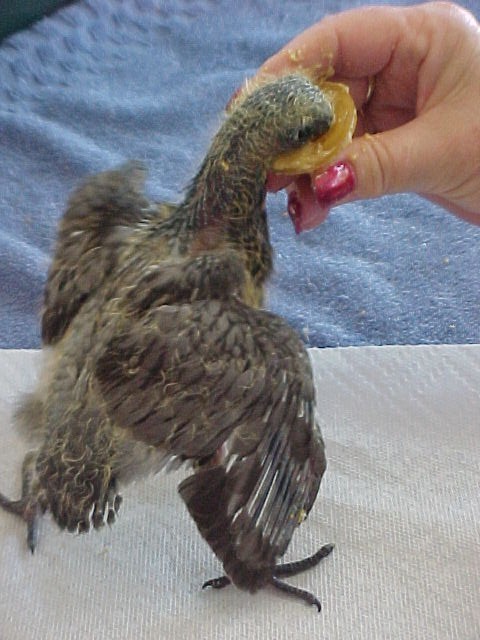 His droppings look good.
The white is good. It indicates urine which means he's getting liquid.
Ball park figure, about how many poops does he produce in a given hour or so?
Junior is at the age where it will be easy for him to imprint on you and vice versa.
A couple thoughts to ponder:
1. If you decide to release him, is there a safe place where other pigeons flock?
It would not be an ideal situation to release him by himself.
2. If you are contemplating keeping him (pigeons actually make wonderful pets)
then you could offer him a mirror to entertain himself, and/or a small stuffed animal.
If there is absolutely no way this would be possible, then I would suggest not
giving him any toys and only feed, water and clean his quarters without any
other interaction.
Once they become dependant on a human it's hard for them to fend properly
in the wild.
You and your boyfriend are doing an awesome job with Junior.
Please keep us posted.