Chuck and I were coming home late this afternoon and right before I turned on to our street Chuck said, "I think I just saw a pigeon on the side of the road and he looked injured."
I turned around and sure enough in the street by the curb was this poor little pij.
Chuck jumped out of the car and went toward him. He was unable to fly but was trying his darndest to get away by hoping and stumbling. By the time I got to him with a towel, Chuck has successfully caught him.
It appeared that he had some blood in his mouth, but was very alert.
We got home and I grabbed the only cage I had, a duckling cage.
He was making a 'clicking' noise and was open mouth breathing which was very rapid.
There was no doubt he was completely dehydrated as he was right in the sun, on the hot pavement and it was about 110 degrees today.
Once I got him settled I syringed water into him, one drop at a time, which he took without hesitation. Within a minute or two his breathing had slowed down and he was breathing normally with his mouth closed. I continued with the syringe watering switching to rehydrating solution.
He does have an injury to his left wing and his tail is pretty tattered. I have a feeling he was clipped by a car.
I just checked on him and he seemed to be resting comfortably.
I have no idea if there are any internal injuries so we're thinking positive thoughts that he makes it through the night and we have a happy update to report in the morning.
Here are a couple of pictures I took shortly after we got him home.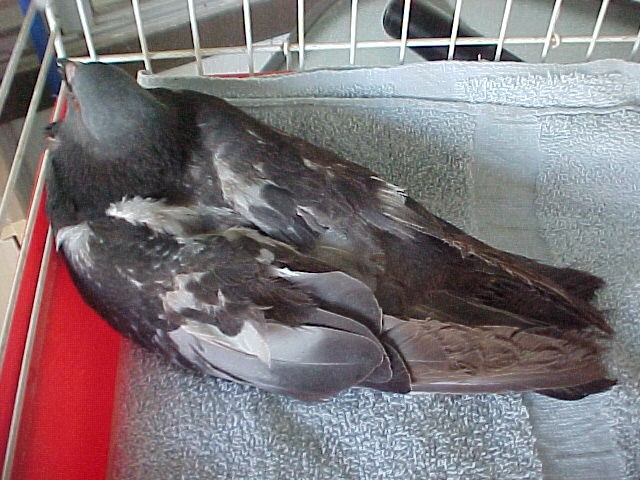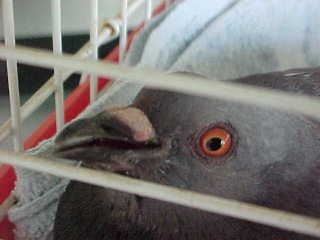 _________________
Cindy

A Pigeon's Prayer
Please watch over us while we fly,
Keeping us safe from the predators that share the sky.

If we become ill or injured in any way,
Please lead us to safety where we are welcome to stay.